Roller Shutters
Roller Shutters
Protective Shutters for Store and Shop Windows
Shutters for Complete Protection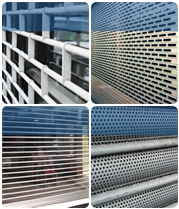 Perhaps the most traditional form of security for shops and stores, small and large, the roller shutter provides compete obscuration and protection of retail display windows and shop doorways.
Manufactured with steel or aluminium blades, installed in strong reinforced guide rails, and with robust bottom bars and locking systems, at Shutters Grilles and Gates, we'll custom-manufacture shutters to exactly fit your store front, whether it's a window only shutter, or one that also covers the door.
Available in a plain galvanised finish, powder-coated or painted in any colour, or even with your branding applied, they can be installed internally or externally, key operated or with a remote control. Rolling tightly into a slim-line box, they effectively disappear when open, and can be often be concealed behind fascia signs or lighting fittings.