Interior Window Gates
Interior Window Gates
Making individual areas in your home secure
Protecting Vulnerable Parts Of Your Home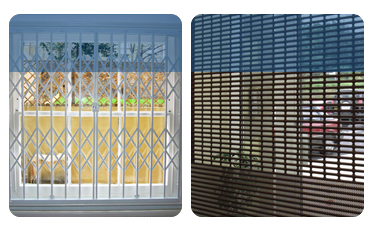 We like light in our homes, and that means glass. Plain glass is vulnerable to something as simple as a brick, while most reinforced glass will succumb to hammer blows.
But you don't want security behind the glass, walling you off from the garden and the outside world. It may be too, that you have less secure outdoor/indoor are like pool rooms, outbuildings or garages that link with your home.
Where there are vulnerable areas that could provide routes to the higher value parts of your home, at The Shutter Grille and Gate Co, we make and fit discreet internal security gates, allowing you to physically separate them from the rest of the house.
Folding or sliding, concertina gates can be coloured to match your d'cor, or hidden behind curtains, to provide security without visual intrusion, even at times when you might not want to set electronic alarms.
Shutters. Grilles. Gates. Visual Deterrence. Physical Protection.
Customer Comments
I was at a funeral fours hours' drive away and my teenage children were stuck outside in freezing temperatures with a broken key in the mortice lock! We rang West London Security and they arrived really quickly and managed to get into the house equally quickly despite it not being a straightforward task. They are returning to fix a new lock today. Really great service!
Hammersmith