Window Security Grilles
Window Security Grilles
Intruder proof windows
Permanent Protection For Vulnerable Windows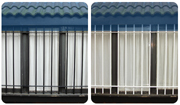 When folding gates aren't required, an effective and lower cost alternative is a fixed grille behind or in front of windows.
Available in a variety of grille patterns, and made in our West London factory to fit your windows exactly, a fixed grille provides high levels of visual deterrence and physical protection at a reasonable cost. And, because they are securely fixed permanently in place, it - of course - impossible to forget to close them.
Shutters. Grilles. Gates. Visual Deterrence. Physical Protection.
Customer Comments
Considering the snow and ice out there at the moment I really want to say how pleased I am with the service I received. Harry's communication was excellent and although it was a simple job he went over and beyond expected service. He came back another evening to put a cover on my lock when it wasn't actually part of the job. Thanks Harry!!
Hanwell